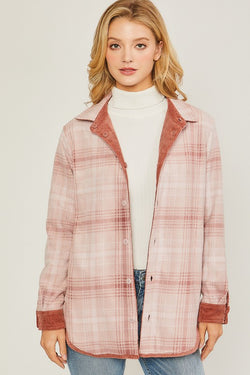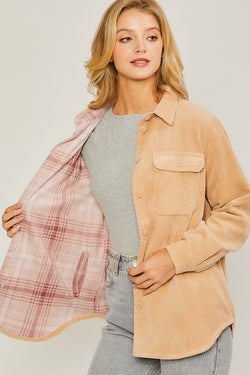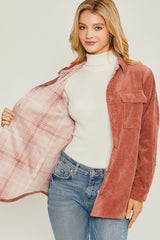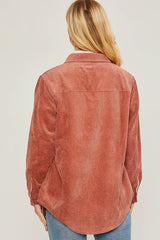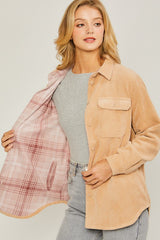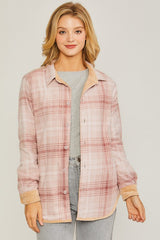 Corduroy Reversible Button Down Jacket
The Corduroy Reversible Button Down Jacket is a versatile outerwear piece with several notable features. It is made from corduroy fabric, which is known for its soft texture and durability. What sets this jacket apart is its reversibility, allowing you to wear it in two different ways, giving you flexibility in styling. With a button-down closure, it's easy to put on and take off, and the 6 W P/N corduroy reversible button down jacket.

Model Specs
Height: 5'9"
Bust: 32"
Waist: 23.5"
Hips: 43.5"



Style: Casual

Print / Pattern: Corduroy

Silhouette: Jacket

Fit: Regular

Embellishment: Reversible

Neck Line: Collar

Sleeve: Long Sleeve

Length: Up to 29"

Closure: Button

Lining: Yes
Fabric Contents: 90% Polyester, 10% Nylon
Lining: 100% Polyester
Non-stretch fabric

Non-sheer fabric
Care Instructions: Machine wash cold, gentle cycle, tumble dry low.
Size Measurement (inch):
S: 21.0 (Bust), null (Waist), null (Hips), 27.5 (Length)

M: 21.5 (Bust), null (Waist), null (Hips), 28.0 (Length)

L: 22.0 (Bust), null (Waist), null (Hips), 28.5 (Length)

XL: 22.5 (Bust), null (Waist), null (Hips), 29.0 (Length)
@plushboutiquebrentwood
Follow us